Hotel services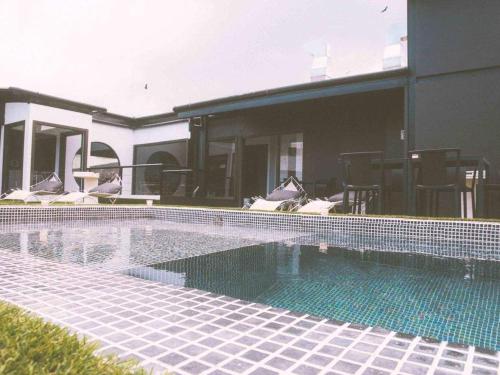 We have all the facilities and services you need to feel at home and enjoy the Casa Panama experience. Relax and enjoy yourself from the tranquility of a hammock on our terrace, the gardens or taking a refreshing drink from the balcony of your room. Hotel Casa Panama has Pool and Solarium located on the roof of the hotel, overlooking the magnificent skyline of the City. Enjoy the service Outdoor bar and excellent Latin American cuisine in Lazotea Restaurant & Rooftop Bar , as well as the delicious fusion of Argentina grill and the magic of Spanish tapas in Restaurant Santa Rita . If you have a special occasion to celebrate or a Event work, family or friends we have special services for all kinds of needs. We have our own Events Hall (150 people), in addition to our restaurants, terrace and hotel at your disposal.
Services and Facilities
At Casa Panamá we have 31 comfortable rooms that represent the essence of Panamanian natural luxury, modernity and tradition. All our rooms have comfortable beds with Best Lingerie, air conditioning, Wi-Fi, cable TV, 24 hours Room Service, exclusive amenities and other facilities. All within an environment created with great attention to detail to offer you the comfort of being in your own home, your Panama House. We also have rooms that provide facilities for people with special needs , as well as all our spaces are adapted for easy access.
Optional VIP Services
We can arrange your Transport from airport to hotel and offer the best of the regional hospitality since coming to Panama. Knowing the destination with us can be very exciting, a mixture of culture, nature, relaxation and modernity. Knowing the Panama Canal, Casco Viejo, the Natural Parks or just going shopping to the various malls of the city, are some of the experiences that we can offer you with our exclusive Tours . If it is conceited and pamper your body services massage, manicure, pedicure, hair and other Body Treatments have them on hand to constantly live the best feelings health and well-being (Previous Citation).